I found an Article about me!!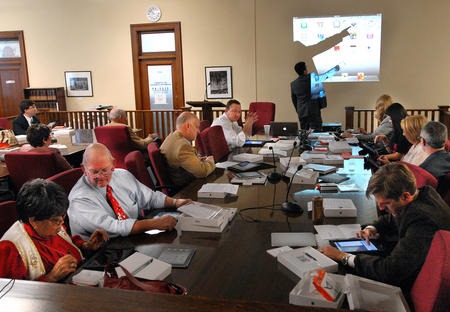 So, in late 2011, I had to buy a suit, because my waistline had dropped and I had to present in front of some very important people…. The West Virginia House of Representatives! I was nervous as I've ever been. The contract was 8 1-hour training sessions to cover the basics and limitations of iOS and iPads for each of the Representatives. I did the training in the Capital building in Charleston, WV.
So unearths another picture of me online. This one is pretty flattering, I think, shows me in a suit, comingling with important people, and heck, some of them are even paying attention!
For what its worth, Charleston is a nice enough town. I walked north to get food when I got there, and found a barren wasteland, when I should have walked south, and found the shopping mall (which I found the second night). It was a 7.5 hour drive to get there, and my muffler detached from my exhaust pipe around 20 minutes into the trip. Nothing like driving up to a state building with a muffler problem!
This trip was when my serious disdain for Sprint started in earnest. I streamed music from my work-provided AT&T Blackberry from Baltimore to Charleston, and I couldn't complete a phone call on my Sprint phone for most of the trip.
Heres the full article, if you'd like to see it: http://www.dailymail.com/News/statehouse/201112130156