Now, full disclosure. I understand that a lot of my blog posts are about animals. I get that. I self-identify as the dog version of crazy-cat-lady. Whenever the "At parties, I play with the dog" meme gets recycled, I'm the one people tag. I'm involved heavily with 3 separate dog rescue organizations in the Baltimore area, and my preferred activity at any given time would be "roll around with puppies".
That said, I get a lot of emails that report the whereabouts and happenings of animals in the area. Trust me, if you have any doubts that humanity is spiraling out of control, rescue work will reinforce that. I got an email from one of the rescues about this dog: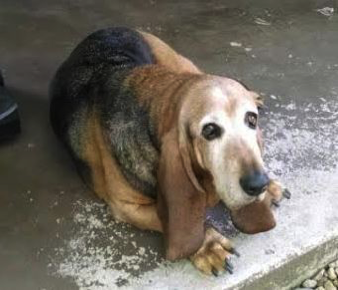 His name is Junior. He is 14 years old, and has been with his owner since he was 6 weeks old. How did the rescue get him? His owner called the local humane society to say he wants "to get rid of the dog" since he got a divorce and has no time for the dog. No time for the dog.
His faithful companion for 14 years. If you own a dog, you know that that dog experiences your whole life, with you. He seemingly empathizes with you when you're sad, he delights in your success. He feels your pain. During this guys divorce, I'm unable to accept that this dog offered him no comfort.
I know that I'm absolutely crazy about my dogs, but I can't stomach these things. Not many things raise my blood pressure to the point of inciting violence like callous feelings towards animals. We've bred dogs to be our companions for over 10,000 years, and this is how we treat them? Ugh.